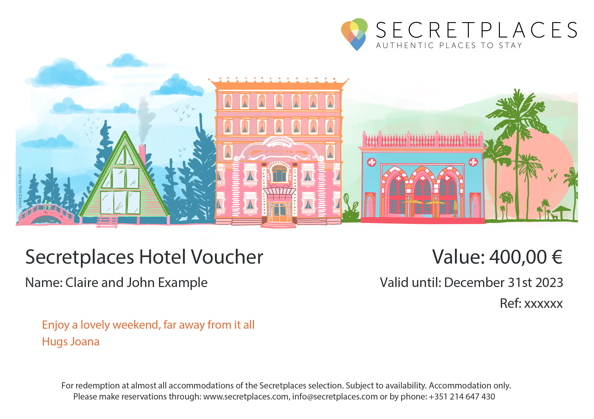 Make a fellow traveller happy!
Looking for that special treat, birthday present or last minute present? Why not make the most of the special Secretplaces Voucher. It can be redeemed at over 1.350 of our beautiful and stylish hotels and accommodations, so there's plenty from which to choose from.
- The voucher is personalized and can include a message
- It can be used all year. No travel date restrictions
- No destination restrictions
- No costs. Full value can be redeemed
- Free Secretplaces advice when choosing a hotel or destination
- The voucher will be sent to the purchaser by e-mail
For more information on how to pick up your hotel gift vouchers, email us or call on +44 203 286 4643, +351 214 647 430 (P), +34 902 430 310 (E) or +49 89 809 109 34 (D). Alternately, simply fill in the details below, pay the chosen amount by PayPal and receive our voucher by e-mail. You can also acquire a voucher by sending us an email, mentioning your name, the name of the recipient, the value and a short message you might want to add to the voucher. Payment would be through bank transfer.
Please note the following conditions apply:
- Reservations must be made with Secretplaces
- Valid for accommodation only
- Depending on value the voucher can only be used for a restricted number of reservations
- No reimbursement for reservations with lower values
- Not valid for cash back (unless required by law)
---