Beautiful Boutique & Romantic Hotels in Donamaria, Navarra, Spain
Sort by price: Lowest | Highest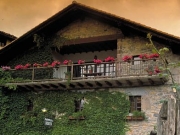 Everything in this small family run hotel seems to fit in nicely together. The hosts, Imanol and Elixabet are charming and urbane, the setting o...
Traveller Tips
Restaurants
Donamariakobenta
Restaurante con jardin, bodega, cuarto para niños, jardin. Cartas y Menú diversos.
Se dan cursos de cocina par alojados.
Cocina de autor: vasco...
Activities
Sorry, no tips available yet
Culture
Sorry, no tips available yet