Sort by price: Lowest | Highest



Secluded and well-located hideaway near fine beaches.
Situated up on a hill near the beach, this 17th century Ibizan finca really does manage ...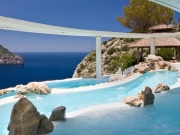 Superb views and luxury only 20 minutes away from Ibiza.
What a view! It's no exaggeration to say that the Na Xamena Hotel Hacienda provides o...
Traveller Tips
Restaurants
Sorry, no tips available yet
Activities
Sorry, no tips available yet
Culture
Sorry, no tips available yet