Sort by price: Lowest | Highest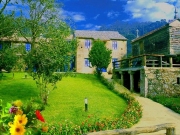 Simple, tasteful and charming Galician house.
What is the one word to describe the Casa Perfeuto Maria? Absolutely charming! Well two actually...
Traveller Tips
Restaurants
Sorry, no tips available yet
Activities
Outes
Colaboran con Casa Perfeuto María varias empresas especializadas en actividades de deportes de aventura que ofrecen material técnico específico,...
Culture
Sorry, no tips available yet