Sort by price: Lowest | Highest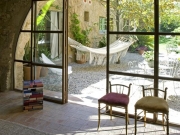 In a way, Les Hamaques is a new concept of small hotel for Spain. It's based on the "la maison d'hôtes" style, as originally developed in France...
Traveller Tips
Restaurants
Sorry, no tips available yet
Activities
Ruinas greco-romanas de Empuries
Wonderful Roman & Greek ruins of Empuries plus a mueus. Really worthwhile to visit. Best time to vist? In the evening with view of the Rosas Gulf.
Culture
Sorry, no tips available yet