Sort by price: Lowest | Highest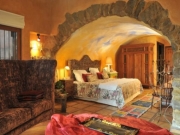 This is different and quirky, that's for sure! Even the name "the Dwellings of the Unicorn" is unusual. Incredible rooms too!
But there is som...
Traveller Tips
Restaurants
El Celler de Can Roca
In 2011 El Celler de Can Roca was voted second best restaurant in the world by Restaurant magazine. Only 20 minutes away from the Las Moradas del U...
Activities
Sorry, no tips available yet
Culture
Sorry, no tips available yet