Sort by price: Lowest | Highest



Who says that time always moves inexorably onwards? Sometimes it just seems to stand still, set in stone as it were. A case in point is the lov...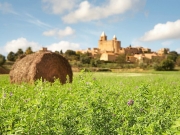 Located in the village of Madremanya, behind a colourful field of sunflowers is La Plaça, which is not only a fine accommodation in itself but a...
Traveller Tips
Restaurants
Sorry, no tips available yet
Activities
Sorry, no tips available yet
Culture
Sorry, no tips available yet