Sort by price: Lowest | Highest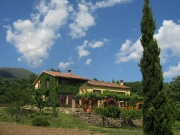 You will be touched by the "Posada Effect", that ethereal feeling of knowing you are staying in a special place where everything – nature, warmt...
Traveller Tips
Restaurants
Restaurante Gredos DIM
Great kid, lamb and roast beef. Excellent value for money.
Activities
Castro Celta de El Raso
One of the most complete archaeological sites of the early history of the Castilian plateau, dating from the V to I adc, important testimony Veton ...
Culture
Sorry, no tips available yet