Sort by price: Lowest | Highest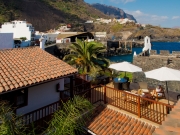 First thing to know about this hotel is that it is right in the heart of Garachico, just opposite to the Castle of San Miguel. Plus point!
Sec...



Situated in Garachico, a delightful and quiet port north-east of the island of Tenerife, this small and homely 22 room hotel was a 17th century ...



Historic manor house in Garachico, Tenerife hotel.
This exquisite small hotel comes with history and quality in equal measures. Dating back or...
Traveller Tips
Restaurants
Sorry, no tips available yet
Activities
Sorry, no tips available yet
Culture
Sorry, no tips available yet