Sort by price: Lowest | Highest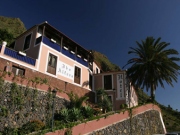 Those looking to explore magnificent countryside and enjoy a peaceful retreat need look no further than Ibo Alfaro.
This recently restored man...



Traditional Canary Island Parador.
A heavenly setting with fabulous views of the ocean (set as it is on a cliff with Tenerife and the Teide in...
Traveller Tips
Restaurants
Sorry, no tips available yet
Activities
Sorry, no tips available yet
Culture
Sorry, no tips available yet