Sort by price: Lowest | Highest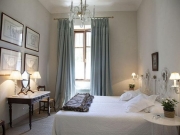 A secret world of peace and tranquility in the heart of sherry country.
You are now in sherry country and hidden amongst the thick arboreal ga...



A beautiful mix of the old and new in Jerez de la Frontera, the capital of sherry.
Many luxury hotels tend to be somewhat formal or overly ser...
Traveller Tips
Restaurants
Sorry, no tips available yet
Activities
Sorry, no tips available yet
Culture
Feria del Caballo de Jerez
Desde el día 08 de mayo al 15 de mayo se celebra en Jerez de la Frontera a tan solo 20 minutos de la Hacienda El Santiscal su famosa Feria del Cab...