Sort by price: Lowest | Highest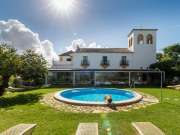 A typical Manor house situated in an Andalusian "Cortijo" the origins of which go back to the 15th century Catholic Kings.
The interior provid...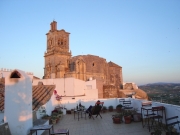 Located by a tiny street in the historic quarter of one of the beautiful "White Villages" - Arcos de la Frontera - the "Big House", to give it i...
Traveller Tips
Restaurants
Taberna Jovenes Flamencos
Pequeño pero acogedora taberna con ambiente popular y en torno al Flamenco muy céntrico, con buenas tapas y mejores precios.
Activities
Centro Ecuestre Las Nieves
Centro ecuestre a tan solo 5 kms. de la Hacienda donde se puede practicar la equitación; desde paseos a caballo por los alrededores hasta clases d...
Culture
Parque Nacional de Doñana
Visitas en barco por la desembocadura del Guadalquivir para ver el Parque Nacional de Doñana y su entorno. Se realizan estas visitas guiadas en di...