Sort by price: Lowest | Highest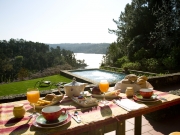 That get away from it all feel.
As you enter by a small tree lined avenue, you'll notice immediately that the Quinta do Troviscal is the place...
Traveller Tips
Restaurants
Casa das Ratas - Tomar
Casa das Ratas - an old renovated house service snacks and a place for great conversation. Well decorated and playing Fado music in the background....
Activities
Passear
Tomar - cidade Templária. Cidadezinha com frondosas árvores sobre o rio Nabão. Da ponte velha e da nova edifícios com história e lendas. O co...
Culture
Castelo e Convento de Cristo
Castelo e Convento de Cristo - construído sobre ruínas muçulmanas passou a fortaleza cristã com a reconquista - nasce a Charola como marco da O...