Sort by price: Lowest | Highest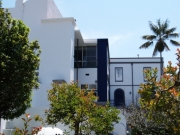 The Casa Vitoriana guest house goes back quite a long way, to the beginning of the last century, in fact, and during all this time it has been i...



Originally a late 17th century baroque building, Casa Gloria was rebuilt in 1990 after a fire.
Much of the original detail was maintained whil...
Traveller Tips
Restaurants
Sorry, no tips available yet
Activities
Sorry, no tips available yet
Culture
Sorry, no tips available yet