Sort by price: Lowest | Highest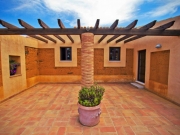 This new addition to the Secretplaces selection (Cerro da Borrega has only recently opened) is one to look out for.
You see, it has all the tr...



The six cottages that make up the wonderful Montes do Telheiro started off life as workers houses where "telhas" (or tiles) were made, hence the...
Traveller Tips
Restaurants
Sorry, no tips available yet
Activities
Sorry, no tips available yet
Culture
Sorry, no tips available yet