Sort by price: Lowest | Highest



Nestling on a small hill between Pietrasanta and Camaiore, Locanda al Colle proposes peace and privacy in a completely charming setting.
This anc...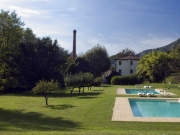 Villa La Bianca was founded by the great writer and literary critic: Cesare Garboli. Since its opening, we have been trying to keep the original...
Traveller Tips
Restaurants
Sorry, no tips available yet
Activities
Sorry, no tips available yet
Culture
Sorry, no tips available yet