Sort by price: Lowest | Highest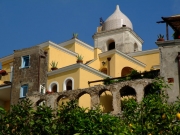 This is not one of our typical Secretplaces, but we had to include the location (in the fishing village of Nerano, on the tip of the peninsula) ...
Traveller Tips
Restaurants
Restaurant Casale Villarena
First of all, we stayed at Casale Villarena. Amazing. The food is outstanding.my fussy 8 year old lives on chicken goujons... chips... etc. he happ...
Activities
Sorry, no tips available yet
Culture
Sorry, no tips available yet