Sort by price: Lowest | Highest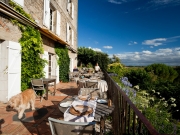 Who needs Languedoc or Provence when you have such a beautiful, undiscovered gem as the Midi-Pyrénées. We say this tongue in cheek, of course, b...



As the guests usually describe it, Hotel Lous Grits is the example of a lovely, beautifully well decorated and presented charming hotel.
Every...
Traveller Tips
Restaurants
Sorry, no tips available yet
Activities
Sorry, no tips available yet
Culture
Sorry, no tips available yet