Sort by price: Lowest | Highest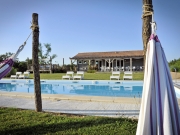 Active relaxation anyone? If you want to relax, see beautiful countryside and perhaps enjoy a number of activities, then may we suggest the love...
Traveller Tips
Restaurants
Auberge La Ferme aux Grives
The L'Auberge La Ferme aux Grives restaurant is owned by Michel Guerard, a three star Michelin chef.
The atmosphere is charming and authentic, whe...
Activities
Back to the prehistory
Like in the rest of France, the Chalosse area contains a rich cultural heritage. Within a stone´s throw from the hotel you can find the prehistori...
Culture
Sorry, no tips available yet