Sort by price: Lowest | Highest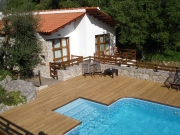 The aromas and charms of middle Portugal.
Apart from the striking landscapes of the Serra de Aires and Candeiros Natural Park, one of the thin...


The Marreco House is newly built in the traditional style of the area. Situated above a valley at the far end of a large Quinta, it boasts glori...