Sort by price: Lowest | Highest



The history of the Pousada Caminho do Rei starts off back in the summer of 1984, when Paul and Monica went on a winding trek along the then totally...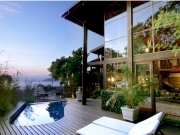 When we say privileged location, this is the sort of thing we mean. Any corner of the Quinta do Bucanero provides stunning views of Praia da Rosa (...