Sort by price: Lowest | Highest



"Tranquillity in every corner, beauty all round, friendliness abounding - you must be mad if you don't get sucked in by its charm. Congratulatio...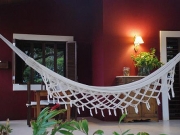 Romantic and charming is a nice way to begin the description of the Terra dos Goitis. It is true, after all.
Located in the Praia do Amor (Love B...